Free speech against Hate speech
7. January 2007
Die Internetseite www.iranholocaustdenial.com versucht eine Materialsammlung gegen den iranischen Versuch der Geschichtsklitterung und Holocaustleugnung aufzubauen. Anlass ist die so genannte "Holocaust-Konferenz", die in Teheran - unter Beteiligung deutscher Nazis - stattgefunden hat. Gründe gibt es aber noch eine Menge mehr.
Die Ziele nennen die Initiatoren - nach eigenen Angaben nur einige wenige Einzelpersonen, keine Organisationen - selbst:
To compile a permanent archive of international outrage towards the Iranian regime's state sponsored racism; and place this site in the top ranks of all search engines.

To advocate genocide prevention as oppose to denial. In particular, Darfur where genocide is happening right now!

To advertise all online advocacy initiatives against Iranian hate propaganda.

To present information about the Holocaust and if volunteers are willing, to build a comprehensive directory of Holocaust sites and other relevant content.

To expose the regime's political motives and terrorist links; while focusing on their harsh media censorship and state oppression .

To launch a campaign against one of Iran's most vulnerable spots–their fear of free speech. This will liberate opposition voices in Iran though advocating technologies that can helps Iranians surf the Internet undetected.
Die Seitenbetreiber bitten darum, auf ihre Seite zu verlinken. Was ich eine gute Idee finde und hiermit tue: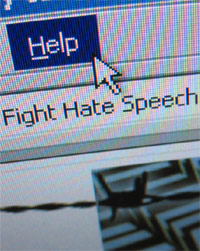 Nächster Beitrag
Vorheriger Beitrag